Energy expenditures and environmental pollution are primary concerns of the 21st century. Realizing the importance of meeting sustainability goals, designers and contractors are more focused on creating energy-efficient buildings. 
The Energy codes and standards play a crucial role in setting minimum requirements for designing and constructing energy-efficient buildings. The energy code department and standards revise these energy codes regularly to meet the changing needs and practices in construction and technology, improving building efficiency. These revisions help keep pace with changing construction practices, incorporate new technologies, and improve building efficiency. The modifications are inevitable to serve the best interest of the public. The changes to codes may seem a bit complicated for building communities, and it becomes challenging to stay up-to-date with these. 
This blog will be a quick reference on the big three building energy codes and standards that provides you with a uniform outline for new buildings and renovations.
So, what are Energy Codes, Energy Standards, and the Model Energy Code?
Energy codes are mandatory requirements written in enforceable language by state or local governments specifying how buildings must be constructed or performed. 
Energy standards are the national recommendations for constructing energy cost-effective buildings published by national organizations like ASHRAE.
The model energy code is published and maintained by the International Code Council and is written in the mandatory and enforceable language.  International Energy Conservation Code (IECC) is a model energy code, and before adopting the same, the governments can adopt changes to make it suitable for regional building practices.
Which are the Big Three Energy codes and standards?
ASHRAE 90.1, IECC, and Title 24 are considered the Big Three Building Energy Codes and Standards.
ASHRAE 90.1 is the Energy Standard for Buildings except for Low-Rise Residential Buildings, and the International Energy Conservation Code (IECC) is developed nationally. California, with an exception, uses the California Title 24 Building Energy Efficiency standard to ensure building's energy efficiency. All buildings are bound to meet the energy code requirements adopted by the authority.
Devices complying with these codes ensure energy efficiency and create a sustainable environment. Products in compliance with energy codes don't mean that they are certified to meet building energy codes. The product has the specific functionality required to be energy code compliant depending upon the space type, daylight availability, and usage. 
What is ASHRAE 90.1?
What is the International
Energy Conservation Code (IECC)?
What is Title 24 ?
Energy Standard for
commercial buildings in the
United States
American model building code that sets
minimum efficiency standards for new
construction
California Energy Code, is the
benchmark of California state's
energy efficiency strategic plans
Updates on three-year cycle
Updates on three-year cycle
Updates on three-year cycle
Latest edition, ASHRAE 90.1 2019
Latest edition, IECC 2021
Latest edition, Title 24-2019
ASHRAE 90.1 focuses on
consistency, standardized
structure and document
language of the energy code
IECC 2021, includes updates for energy
improvement, lighting improvements,
commercial building efficiency, building
enclosure changes and more
One of the major changes is the inclusion
of healthcare facilities as newly
regulated building type, along
with many exceptions.
The table above provides more details on these energy codes and standards. 
What are the changes in ASHRAE 90.1- 2019?
ASHRAE 90.1 has brought significant changes to interior lighting power allowances while modifying lighting controls requirements. Also, Commissioning requirements were added for the first time.
Significant Changes are as follows; 
The Lighting Power Allowances are modified according to the IES recommendations, and designers can opt for the Building Area method or Space by Space method as per their choice.
Interior lighting power allowances were increased for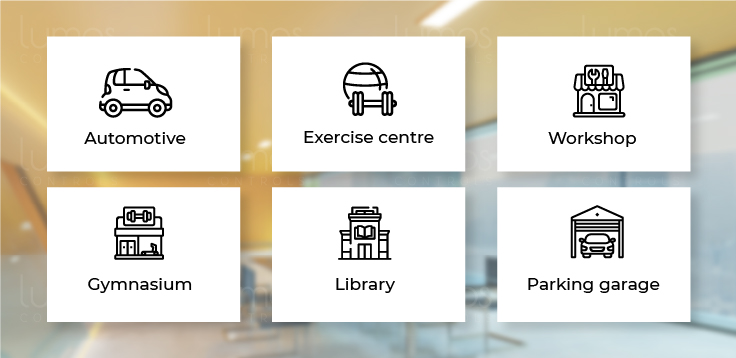 What is new in the Building Area method of ASHRAE -2019?
A New simplified Building Area Method was introduced for buildings, strict lighting power allowance, and various control features like automatic shutoff, local manual control, bilevel control, partial-OFF lighting, and daylight-responsive dimming. 
What is new in LIGHTING REQUIREMENTS of ASHRAE -2019?
Section 9 details lighting controls like dimming and occupancy controls that are mandatory in all commercial buildings. Exterior lighting requirements mention parking garages and exterior building lights, specifying that they should be reduced by 50% according to occupancy or schedules. 
➔ There shall be one or more readily accessible manual lighting controls in the space that controls all lighting <=10,000 sq. ft? (9.4.1.1 (a)
➔ Automatically shut off lights within 20 minutes of vacancy (9.4.1.1 (h))
➔ Shutoff or automatically reduce lighting by at least 50 % within 20 minutes of vacancy (9.4.1.1 (g)
➔ None of the lighting in the space shall be automatically turned ON (9.4.1.1 (b))
➔ Besides ON and OFF, lighting is either continuously dimmed or controlled with at least one step between 30% and 70%of full lighting power (9.4.1.1 (d))
➔ multi-step or continuous dimming photo controls shall control the general lighting. (9.4.1.1 (e) (f))
➔ At least 50% of receptacles and 25% of feeders to modular furniture shall auto-off by either schedule, occupancy sensor, and automatic signal. (8.4.2)
➔ Automatically record energy use every 15 minutes and report at least hourly, daily, monthly, and annually and the system must be capable of retaining data for at least 36 months (8.4.3)
What are the changes in IECC 2021?
The significant changes of 2021 are Increased efficiency, at least 10% over 2018 IECC, and improved useability. • For improved usability, mandatory and prescriptive labels are removed, and compliance paths are named and defined in C401.2 and R401.2.
Significant Changes are as follows.
➔ Increased lighting efficacy and decreased lighting power density requirements 
➔ New provisions for automatic receptacle control 
➔ New provisions for energy metering and monitoring
What is NEW in IECC 2021?
➔ The sensor in a zone may automatically turn ON lights upon occupancy, may activate when unoccupied but at no more than 20 percent of total power.
➔ Included a section covering occupancy control function in corridors (C405.2.1)
➔ Time-switch controls must be installed where occupancy sensors are not installed, with notable exceptions. (C405.2.2)
➔ General lighting in daylight zones features daylight-responsive controls that independently control the lighting, with exceptions. (C405.2.3) 
➔ Designates control requirements for special applications like display lighting and supplemental task lighting. They must be controlled by either an occupancy sensor or time-switch control for automatic shutoff, plus a manual control that enables them to be controlled separately from the general lighting. (C405.2.4)
➔ An entirely new section for Parking garage lighting controls is included (C405.2.7)
➔ Testing and documentation (C408.3) and Energy Metering and Monitoring (C405.10) are made mandatory. 
What is new in Title-24- 2019?
Title 24, the building energy codes for California, has notable change in 2019 version and that includes reduction in allowed interior lighting power density. Another significant change is the inclusion of healthcare facilities as a newly regulated building type and many exceptions.  
Significant Changes are as follows
● Lighting Power Density (LPD) requirements are entirely based on the use of LED lighting.
● All restrooms are required to have occupancy sensor controls.
● Enclosed areas of 100 square feet or more, with an exceeding lighting load up to .5 watts per square foot, requires multi-level rules that allow lighting levels to be adjusted up and down.
● Daylighting controls should have automatic daylighting functionality that meets specific setting, calibration, and accuracy requirements
● Energy code now covers more occupancy types. I-1 and I-2 occupancy types have been included.
In a nutshell
Building Energy codes help to build sustainable and energy-efficient buildings. Wireless lighting controls that comply with building energy codes and standards are prerequisites for creating energy-efficient buildings. Lighting and advanced wireless lighting control significantly impact energy savings, occupant comfort, and aesthetics of the spaces. Lighting designers, specifiers, and contractors must ensure that the lighting control systems comply with energy codes and standards while meeting the occupant requirements. 
We can help you build a code-compliant energy-efficient eco system. Feel free to reach us. Click here