Technological advancements are always astounding. A few decades ago, who would have dreamt that light can be turned ON/OFF without switches or create sunrise or sunset lighting indoors? The advance of lighting technology has brought these significant changes, and the digital standard for luminaire control, DALI, is a triumph for the world.
What is DALI?
DALI, the lighting communication protocol, is the abbreviation for Digital Addressable Lighting Interface and is developed by the international standard is developed by IEC (International Electrotechnical Commission) and DiiA (Digital illumination Interface Alliance). The DALI and DALI-2 and D4i trademarks are owned by DiiA.
This bi-directional communication standard is used to communicate and control the entire components in a lighting network which includes ballasts, controllers and sensors. The origination of DALI paves back to late 1990's and the standard was defined in IEC60929. However, realizing the importance of advancements, the protocol was updated on a regular basis and the current version of DALI, DALI-2 defined in IEC62386 was modified in 2020.
Why DALI?
DALI offers easy and efficient management of lighting irrespective of the number of building floors and space type. The lighting network functioning is simplified with its addressable and digital paving ways for numerous features that help to group luminaires, create scene settings and dynamic control. These features make it suitable for a wide range of applications, including commercial office lighting, house lighting in theatres, and public building lighting (such as hospitals, airports, etc.) For any commercial space, DALI becomes a perfect choice because of its central control over fixtures.
What are the advantages of using a DALI system?
The DALI system has numerous benefits ranging from improved flexibility to easy installation. The advantages of a DALI lighting control system include interoperability, advanced dimming, daylight sensing, and reduced maintenance costs. It also helps designers to meet the energy code requirements.
The main benefits are as follows:
Energy Savings
DALI allows easy incorporation of lighting control strategies like dimming, daylight sensing, and occupancy sensing, thereby ensuring energy savings and comfortable lighting.
Flexibility
DALI system is highly scalable to meet the diverse lighting requirements of the user. Also, the system allows easy addition of fixtures to the DALI loop.
Ease of Modification
DALI system enables easy adaption of lighting controls to any space as and when needed. Depending upon the space requirement the fixtures can be conveniently regrouped and grouped.
Lower Maintenance Costs
The major concern for building owners is maintenance. The ballast feedback makes error identification easy and simplified, thereby guarantee worry-free maintenance that helps save time and money.
Individual Control
DALI system offers individual control making it user-friendly and convenient for occupants to tune the light level to suit their individual preferences.
Integration with a Building Management System
A DALI system allows easy integration with a building management system (BMS) enabling owners to control the lighting network remotely.
Installation/Design
Retrofits or new constructions, DALI lighting control system ensures easy and simple installation and designing of an ecosystem.
High noise immunity
The DALI system is based on digital signals making it less liable to inference. The system operates efficiently and fast without any failure.
What is DALI-2?
DALI 2 is the latest version of the "Digital Addressable Lighting Interface" (DALI). When compared with DALI- or DALI version 1, this version has many new commands and features included like control devices such as application controllers and input devices (e.g., sensors), and bus power supplies.
DALI-2 primarily focuses on interoperability through a certification program that confirms product compatibility with suitable specifications.
What are the changes between DALI and DALI-2?
In the new version of the standard, there are many improvements with several new commands, features and standardisation of control devices.
It also introduces control devices such as application controllers, input devices, and bus power supplies. It also comes up with provisions for full compliance and operation of
Occupancy sensors
Light sensors
Input devices including sensors and switches
Control system
Power supplies
It also offers
Backwards compatibility with traditional DALI
Full set of standards, test flows and test equipment and certification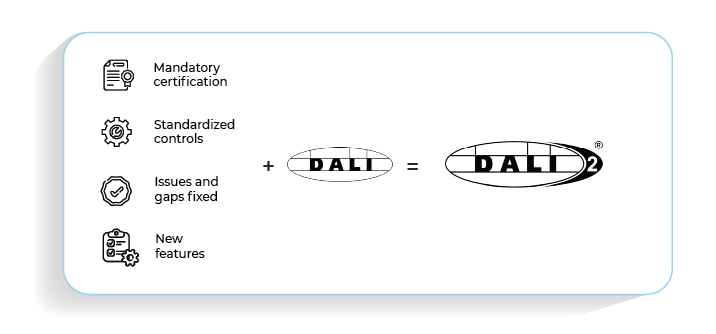 How does a DALI lighting system work?
The basic core of DALI is a bus which is a pair of wires that transfers the digital control signals between input devices and application controllers. According to the signal received, the application controller applies the rules programmed and generates outgoing signals to output devices like LED drivers.
Bus power supply unit (PSU) is the mandatory component that maintains the bus voltage at the required level.
Led Fittings in the DALI installation needs a DALI driver and accept DALI commands directly from the DALI bus and respond accordingly. The drivers can be DALI or DALI-2 devices, but if it is not DALI-2 they will not have any of the advanced features introduced with the advanced version.
Control devices- Input devices are sensors, switches etc that use 24-bit data frames that communicate with the application controller and they will not directly communicate with the control devices.
Control devices – application controllers are the "brains" of the system that receives 24-bit messages from the input devices and issues 16-bit commands to the control gear. The application controller regulates the data traffic on the DALI bus, by analysing collisions and re-issuing commands as needed.
To know how Lumos Controls DALI-based solution helps you meet your various requirements.  Read here.
How are DALI lighting systems wired?

DALI can be installed in bus (series), star (hub and spoke), tree or line topologies. The digital signals are communicated via two-wire control wire, otherwise a bus. It also has simple wiring systems which are more flexible, and it uses a master-slave structure, where information is passed on from the controller and the luminaires where these devices act as slave units. The slave units pass instructions from the controller, and all the cables are connected in parallel to the bus.
We have created several insightful resources which you can read here. and keep yourself updated about all the latest innovations and ideas! 
To conclude,
DALI is a flexible and cost-effective communication protocol. This lighting system allows precise control from a central point, making it ideal for commercial spaces. It is an easy-to-install lighting system for retrofits and new buildings that ensures meeting the goals of wireless lighting controls like energy efficiency, code-compliance, interoperability, and tailor-made lighting requirements, a reality.